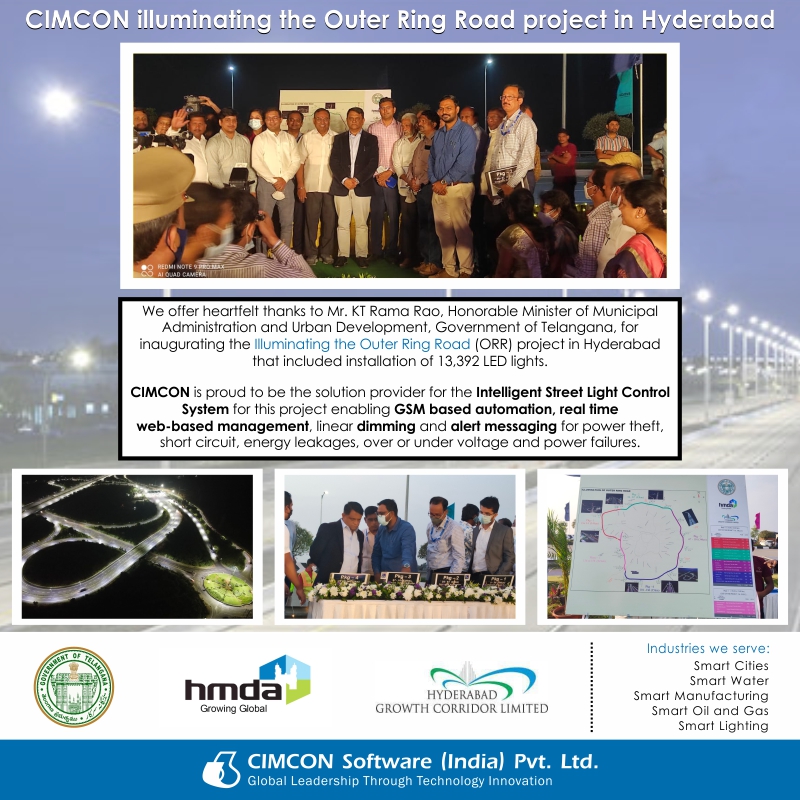 16th Dec 2021
We are pleased to inform the project of illumination to the Outer Ring Road, in Hyderabad is being inaugurated by the Hon'ble Minister of Urban Development Mr. KT Rama Rao.
Name of the Project: Design, Supply, Installation, Testing, and Commissioning, of illumination to the Outer Ring Road, in Hyderabad by Hyderabad Growth Corridor Limited.
CIMCON is a Solution provider for Intelligent Street Light Control Systems and Lighting Technologies is the LED Lighting Partner and KMV Projects Ltd. is the main contractor for this project.
Project Objective:
The street light wireless automation and tracking
The controller should remotely control and Monitor Street lights on the Outer Ring Road by using GSM/GPRS technology. The automation system should be a highly reliable system that provides critical data on power theft, short circuit, energy leakages, and energy losses due to earth leakages, fused lights & health of street lights.
Efficient two-way GSM communication should be made between the street light controller and control server so we send real-time commands to the street light controller and retrieve the data from the street light controller.
The software should provide two-way communication for monitoring street lights from the control server to the feeder pillar box. Once programmed with ON/OFF/Dimming time the device should operate as per the fixed program.