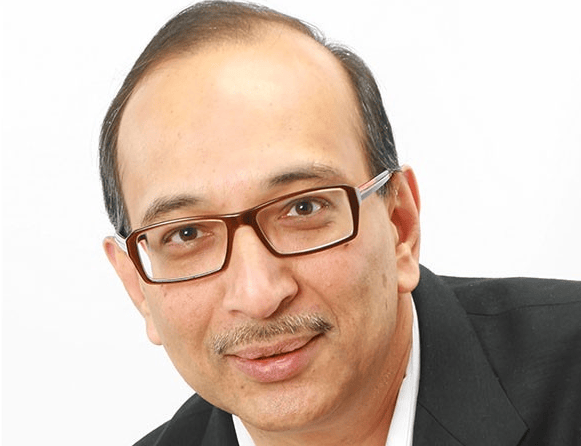 CIMCON dedicates 37 years to transforming the lives of millions of Indians.
This year, a world-leading technology company will mark 37 years of making an incredible impact on society – and transforming the lives of millions of Indians.
In India, CIMCON Automation has introduced innovative systems in water, oil, energy, defense, and agricultural sectors, whilst also contributing massively towards protecting the environment
The company's 'smart' automated technologies have directly led to the provision of drinking water to over 34 million residents across 72 towns, cities, and districts in India.
Read the full article : https://smartwatermagazine.com/news/cimcon/cimcon-dedicates-37-years-transforming-lives-millions-indians
Software solutions for lighting have provided safety for 38 million people across the country, while carbon emissions have been reduced by 20% through automation, saving 1 billion kWh of energy through energy-efficient technology.
Three million farmers in 10 cities and three states were aided in increasing their crop yields by 20% through canal automation and precision irrigation, which was led by CIMCON. The increase in crop yields and productivity is expected to result in an $8 billion rise in income for farmers.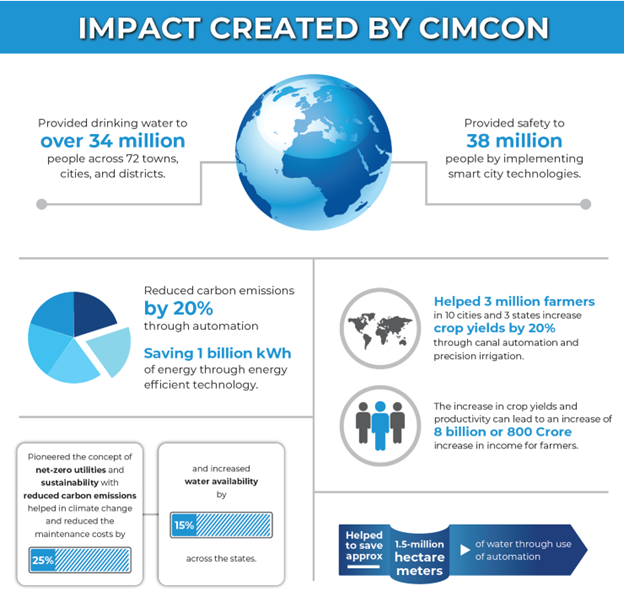 Anil Agrawal, CEO of CIMCON, said: "At CIMCON, we believe in utilizing technology to solve real-world problems and make a positive impact on society.
"We are dedicated to transforming the way our clients do business by delivering game-changing solutions that enhance safety, increase efficiency, and drive cost savings across multiple industries".
With a highly experienced team of engineers and managers, CIMCON continues to lead the way in the next generation of industrial automation.
CIMCON has been in the automation market for several decades and has tried to address challenges related to ageing infrastructure, population growth, and increasing energy consumption. These real-world problems have led to a greater need for innovative solutions to improve efficiency. CIMCON Automation has been working towards finding solutions to these challenges with its experienced team and has made several inventions that have improved the efficiency of the water, oil and gas, and energy sectors over time. Despite the challenges faced, CIMCON has remained dedicated to developing sustainable and efficient solutions to help address the ongoing issues in the automation sector.
The company has come a long way from its humble beginnings in 1986, when Anil Agrawal founded CIMCON Automation in Ahmedabad with a vision of revolutionizing automation and bringing it to the forefront of technology in India.
With a mission to improve energy efficiency and enhance the quality of life for urban residents, CIMCON has been instrumental in introducing innovative technologies that have transformed the way the country operates.
Today, CIMCON is a global leader in the field of smart water, smart city and smart oil & gas technology.
CIMCON began its operations in the rapidly developing city of Ahmedabad, with the goal of revolutionizing the way the city managed its electricity distribution. In 1991, the Ahmedabad Electrical Company (now called Torrent Power Ltd.) became the first to utilize CIMCON's electrical SCADA system, which allowed them to remotely monitor and control the power supply and distribution for the entire city.
CIMCON's growth in the first project for Torrent power led to various projects for the next three decades, including entering the oil and gas industry for cathodic protection, SRP well, liquid and gas flow monitoring.
The efficient and effective automation systems were then utilized in projects for public water treatment, distribution, generation, and sewage plants by managing the water well, pumps and various other assets in the water industry. This has been crucial for delivering clean water to millions of people across even the most remote areas within India.
CIMCON's wireless remote monitoring solution surveils drinking water systems in remote villages in real-time. RTUs connected to a central system monitor flow, level, quality, and pressure, reducing manual intervention and improving water efficiency. Level sensors alert operators when water levels are too high or low and water quality sensors measure physical, chemical, and biological parameters to maintain water quality.
CIMCON's high-tech water solution is being utilized in several states across India, including Chhattisgarh, Gujarat, Haryana, Himachal Pradesh, Uttarakhand, Uttar Pradesh, Punjab, as well as the Military Engineering Services Division. In Uttarakhand, CIMCON has helped the government provide proper drinking water to 40,000 villages which are spread far and wide across the mountains and difficult terrain. Initially without CIMCON solutions, the field workers used to climb hills in all adverse weather conditions to turn on the pumps and also check when the pumps were down. Sometimes due to weather conditions, the field engineers were not able to reach the location for days. With CIMCON Solution, the engineers can control the pumps and machines remotely and also analyze the faults in the Remote Monitoring center. This has helped the state to not only reduce the manual labor but also take proactive actions based on the inputs from the CIMCON SCADA system.
CIMCON's canal automation project has been a game changer for farmers, enabling them to increase crop yield and diversify into commercial crops without worrying about water supply. This has helped farmers to earn more revenue per hectare of land, thereby improving their financial status. In addition, CIMCON's automation project has addressed water issues in cities where water problems existed.
CIMCON's solution allows for accurate control of water flow even in the absence of operators. With proper timers, the system can distribute water judiciously, reducing water losses and increasing crop productivity. The project has also helped farmers to grow crops in a more efficient manner, with better use of water resources. This not only leads to increased crop productivity but also promotes sustainable agriculture.
By improving the efficiency of the system, CIMCON has helped to reduce the manual labor required to manage the canal, freeing up farmers to focus on other tasks. With the system's remote monitoring capabilities, farmers can easily monitor the canal's operations and make necessary adjustments from a central location, without having to travel to the canal site.
Overall, CIMCON's canal automation project has been a major success, benefiting both farmers and cities. By improving water efficiency, reducing losses, and increasing crop productivity, CIMCON has helped to improve the quality of life for farmers and promote sustainable agriculture in the region.
With its 'Smart Cities' mission, CIMCON has also helped in various smart lighting projects in India in order to improve energy efficiency. The company managed smart streetlights in various cities including Ahmedabad, Aurangabad, Chennai, Gift, Gandhinagar, Hyderabad, Jaipur, Kakinada, Khargaon, Ladwa, Noida, Nagpur, Ooty, Pehowa, Raipur, Shahabad, Solapur, Thanesar, Vadodara, Vizag and others along with multiple defense establishments. Similar power projects have also been completed by the company in the Middle East, including in the UAE and Qatar. In the city of Vadodara, CIMCON is helping to replace 12,000 old lights with smart LED lights with remote monitoring which will help the Vadodara government to manage the lights remotely and also assure the citizens of living in a healthy and safe environment. Due to these initiative, Vadodara is now ranked one of the top 5 cities in the Smart Cities mission
In addition to implementing effective systems in power supply, water provision, and agricultural production, CIMCON has also provided specialist automation in areas including national defense and space research.
The evolution of CIMCON over the years has resulted in the company playing an important role in the defense and security of India by providing a wireless intruder, fire, and environmental alarm system for defense establishments to ensure proper storage and monitoring of artillery. These systems were installed in multiple locations including Naliya, Bhuj, Jamnagar, Jodhpur, Jaisalmer, Jorhat, Chabua, Bagdogra, Pune, and West Bengal.
For National Space programs, CIMCON provided a mission-critical PLC control system at the Space Applications Centre (SAC) of Indian Space Research Organization (ISRO) in Ahmedabad.
In the oil and gas industry, CIMCON pioneered the innovative cathodic protection system which was used for central monitoring by renowned petroleum and gas companies such as Saudi Aramco, GAIL, and IOCL. This method offered 24/7 protection of stations, a 30% reduction in monitoring costs, improved planning activities through early identification of issues, and flexibility in carrying out surveys. CIMCON also introduced the innovative concept of "Speaking well" for electronic surveillance of SRP wells for ONGC.
After nearly four decades of automating systems and saving time, money, and energy in major industries, CIMCON remains committed to customer satisfaction by following NABL-accredited testing procedures and achieving ZED and TÜV SÜD certifications for the safe, high-quality production of their remote terminal units.
CIMCON has established offices in Agra, Chandigarh, Dehradun, Lucknow, Noida, Pune, Raipur, Vadodara, and a research and development facility in Ahmedabad. By utilizing state-of-the-art technology, CIMCON continuously improves processes and develops new products to remain a leader in the global market. With three decades of experience and global exposure, CIMCON is committed to improving the automation journey of its clients, helping them to achieve greater operational efficiency and reduce losses. CIMCON prioritizes customer feedback, and its products are designed according to customer requirements. With a highly efficient R&D team, CIMCON not only develops and improves products but also anticipates industry needs and trends to ensure they remain at the forefront of automation innovation for the global market.
There are numerous CIMCON projects that have made a positive impact on society and improved the lives of Indians nationwide, and these efforts have helped the company gain recognition for its innovative and excellent work, and its tremendous impact on the Indian economy.