CIMCON's Digital Solutions for Water Industry Featured in Everything About Water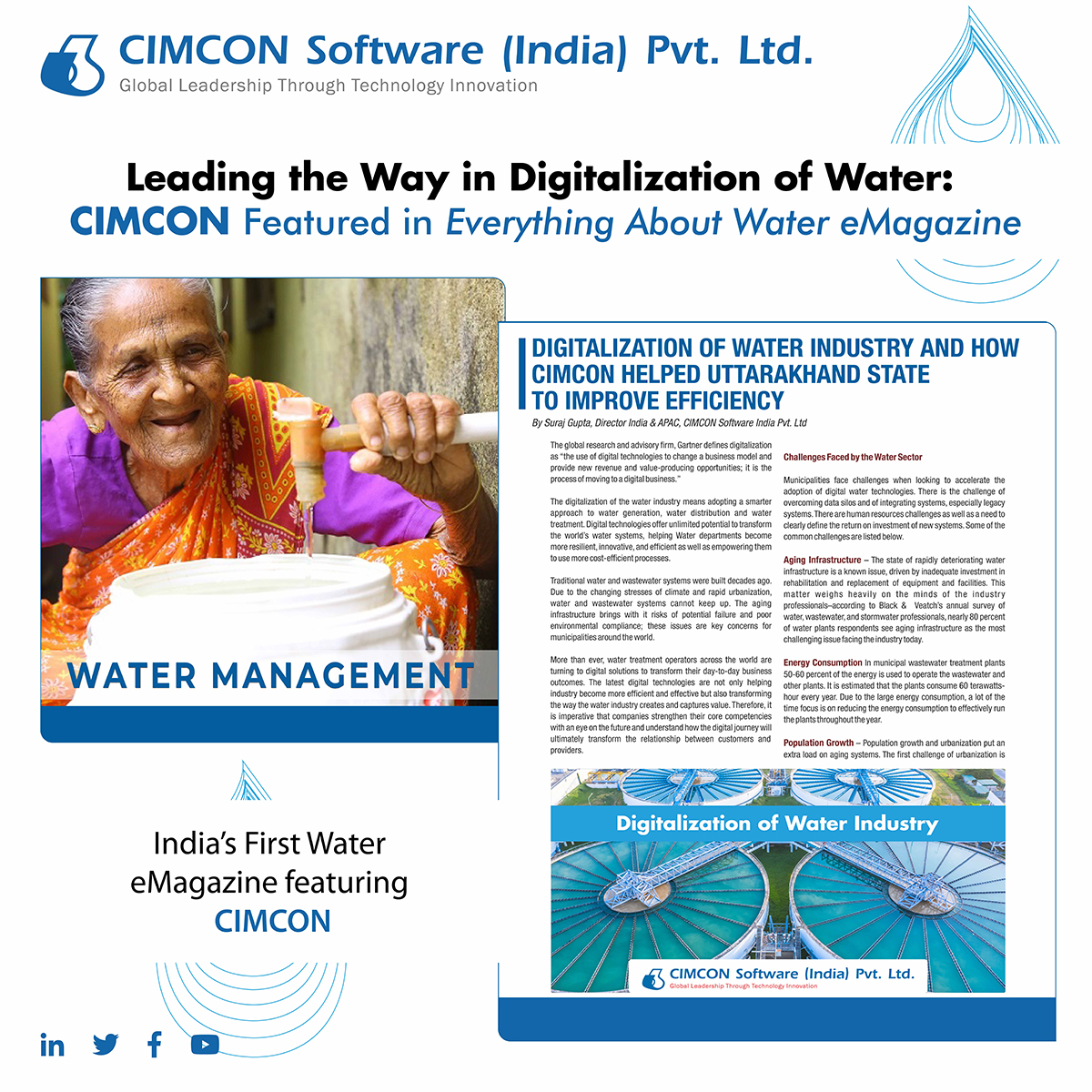 The water industry has been facing challenges since years in terms of ageing population, population growth and rise in energy consumption. To counter the same, many water plants have started adopting digital technologies in order to improve efficiency and get rid of manual work. CIMCON has been helping the cities and water plants for years in order to achieve maximum efficiency and reduce the manual labor to improve operational efficiency. Check out our article published in Water Digest Magazine 2023 where  we have emphasised on the fact that how much digital technologies are needed to improve the water system and how we have helped the city of Uttarakhand to improve efficiency in water generation inspite of harsh weather and conditions.
The global research and advisory firm, Gartner defines digitalization as "the use of digital technologies to change a business model and provide new revenue and value-producing opportunities; it is the process of moving to a digital business."
The digitalization of the water industry means adopting a smarter approach to water generation, water distribution, and water treatment. Digital technologies offer unlimited potential to transform the world's water systems, helping Water departments become more resilient, innovative, and efficient as well as empowering them to use more cost-efficient processes.
Traditional water and wastewater systems were built decades ago. Due to the changing stresses of climate and rapid urbanisation, water and wastewater systems cannot keep up. The ageing infrastructure brings with it risks of potential failure and poor environmental compliance. These issues are key concerns for municipalities around the world.
More than ever, water treatment operators across the world are turning to digital solutions to transform their day-to-day business outcomes. The latest digital technologies are not only helping industry become more efficient and effective but also transforming the way the water industry creates and captures value. Therefore, it is imperative that companies strengthen their core competencies with an eye on the future and understand how the digital journey will ultimately transform the relationship between customers and providers.
CHALLENGES FACED BY THE WATER SECTOR
Municipalities face challenges when looking to accelerate the adoption of digital water technologies. There is the challenge of overcoming data silos and of integrating systems, especially legacy systems. There are human resources challenges as well as a need to clearly define the return on investment of new systems. Some of the common challenges are listed below.
Ageing Infrastructure
The state of rapidly deteriorating water infrastructure is a known issue, driven by inadequate investment in rehabilitation and replacement of equipment and facilities. This matter weighs heavily on the minds of the industry professionals–according to Black & Veatch's annual survey of water, wastewater, and stormwater professionals, nearly 80 percent of water plants respondents see ageing infrastructure as the most challenging issue facing the industry today.
Energy Consumption
In municipal wastewater treatment plants 50-60 percent of the energy is used to operate the wastewater and other plants. It is estimated that the plants consume 60 terawatts-hour every year. Due to the large energy consumption, a lot of the time focus is on reducing the energy consumption to effectively run the plants throughout the year.
Population Growth
Population growth and urbanisation put an extra load on aging systems. The first challenge of urbanisation is meeting supply demands. The second is in maintaining water quality and reducing environmental pollutants because of urban spread.
HOW DIGITALIZATION IMPROVES THE WATER INDUSTRY
Access to digital control means using IoT-supported, data-driven models that integrate and optimise smart pumps, valves, sensors, and actuators. Digital controls also enable devices to "talk" to each other, send data to your smartphone, and produce real-time information that can be accessed and shared over the cloud. Municipalities can analyse, automate, correct, and predict risks in real time by adopting digital infrastructure. This will equip them to address many of the current challenges they face, including extending the life of aging assets, reducing leaks, thwarting cyber-attacks, and preventing other abnormalities in the distribution network service levels. This increases the reliability of supply, promotes water conservation, and increases revenue through operational efficiencies.
The following are some further benefits of adopting digital technologies:
Increasing Resilience
Digital solutions such as a dense network of sensors, intelligent equipment, real-time source-to-tap digital twins, data analytics, and advanced simulation tools enable municipalities to be better prepared for their changing environments. By improving day-to-day water management and building long-term resilience to disasters and climate change, digital solutions address municipalities' priorities.
Improving Efficiency
Digitalization of water management is a huge leap for both infrastructure and society. It will put an end to many hassles and inefficiencies associated with older equipment. Increased efficiency positively impacts the customer. Digital solutions such as detecting leaks, excess vibration, pump bearing failure, cavitation and asset management platforms can provide preventive and predictive maintenance capabilities which can help reduce downtime of critical assets and maximise effectiveness and efficiency of operations.
Remote Monitoring and Data Collection
With the advent of the digital revolution in the water industry, data collection and exchange are growing exponentially, replacing traditional methods and practices. Being able to monitor machines, pumps, and other instruments in the water sector as well as collecting precise data is hugely advantageous for water management.
THE WAY FORWARD TO FULLY DIGITALIZED WATER INFRASTRUCTURE
To reap the full benefits of digitalization, companies in the water industry must follow global standards for connectivity, data storage, data availability, and legislation as well as provide ways to easily integrate their system with other systems. Thus, new water technology systems need to be developed based on new data sources, more intelligent products, and robust planning tools. There is also a need for more service-based business models, collaborative systems based on intelligent water technology components, and multi-utility systems that combine water treatment, energy, and resource recovery in a cyber-safe framework. Hence, having the right products together with an understanding of customer needs and applications combined with intelligent connectivity, are key factors for success in the water industry for the years to come.
AREAS WHERE DIGITALIZATION CAN PLAY AN IMPORTANT ROLE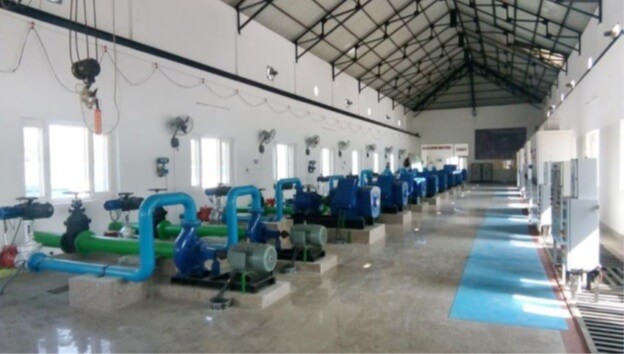 Water Treatment Plants
Water treatment plants face some common challenges in manual labour due to leakage of pipes and valves to electrical and mechanical instruments. Add to that the energy consumption and there is a huge challenge that needs to be addressed. With digitalization, water treatment plants can not only automate the processes but can also manage the assets in real-time and can work on strategies to minimise wastage and maximise purity of outgoing water.
Water Generation Plants
Water generation plants also face challenges with the ageing infrastructure coupled by reduced ground water level and surface water not being chanellised. With proper digitalization, the plants can reduce maintenance and operation costs improve the product quality and increase productivity to enable timely decision making and better process control.
Water Distribution
Water distribution plants face some common challenges with physical loss of water due to leakage and wastage and decrease in water pressure, which leads to degrading the water quality. With the help of digitalization, water distribution plants are able to reduce the wastage of water maintain the quality of water with proper monitoring of the assets in place to enable efficiency.
Sewage Treatment Plants
The sewage plants also face challenges in operation with high energy consumption and with shortage of manpower, there are ill effects on environment with no proper management in place. With digitalization, the plants can not only reduce the energy consumption but also automate the processes to counter the shortage of manpower and manage the assets in real-time.
IS DIGITALIZATION HARD TO IMPLEMENT?
While digital water technology offers considerable promise, there are challenges in scaling adoption of these technologies. One of the main challenges is workforce capacity and training.
Whether the issues are real or perceived, the water sector is slow to adopt new technologies due to a lack of incentives, the risks of adopting new products, and individuals being siloed in their own department. As a result, proven technologies are strongly favoured over unproven or emerging technologies in the water industry. In general, water workforces are not trained in digital technology solutions. This type of training is necessary to scale the adoption of digital technologies.
CIMCON's Remote Terminal Units or RTU's and SCANET Software systems has helped cities and municipalities efficiently deliver water and wastewater treatment for over 30 + years. With CIMCON's vast experience in the water sector, these training and staffing issues are resolved. Instead of having to re-train the workforce in new technologies, CIMCON guides the water departments by taking care of the IoT Part in managing their assets in a better, more efficient manner.
HELPING UTTARAKHAND STATE TO SAVE WATER AND IMPROVE EFFICIENCY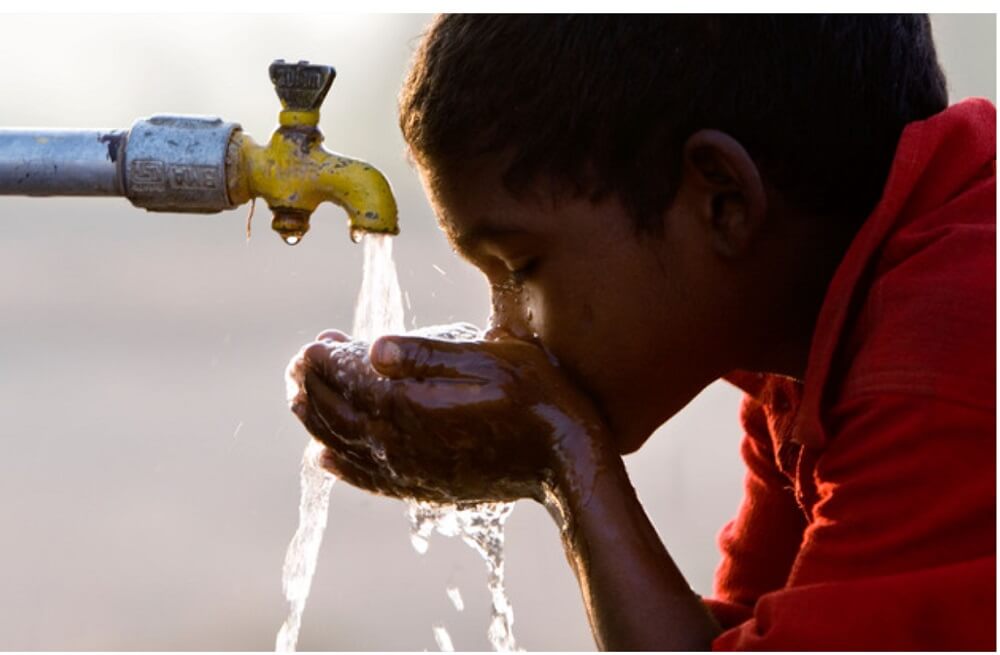 Uttarakhand, a northern states in India is known for its beautiful natural environment of the Himalayas and is also referred to as "Devbhumi" or the land of Gods. The government of Uttarakhand had given a contract to the Uttarakhand Peyjal Nigam to provide drinking water to 40,000 villages in the Uttarakhand district which are spread far and wide across the mountains and difficult terrain. The mission was to provide proper drinking water to one crore citizens.
Being a hilly area, pumping stations are deployed for proper generation of water. But there were quite a few challenges in the pumping stations. In some extreme weather conditions, the pumping operators were not able to reach the pumping stations. Also, the operators used to handle the pumping stations manually, which led to loss of time and water not being pumped at regular intervals. All these challenges followed by manual intervention led to operators not following whether the overhead tanks were full or not, which led towater mismanagement.
Due to all these issues, Peyjal Nigam implemented CIMCON's wireless remote monitoring solution to tackle the challenges. The remote terminal units along with CIMCON's SCADA Systems were all connected with the central monitoring systems of the Peyjal Nigam and through GSM technology the operators of the Peyjal Nigam were notified about water issues through messages. Through CIMCON's remote monitoring solutions, the flow, the level and the pressure of the water pumps can be measured effectively and reduced manual intervention with time.
Post implementing the solutions, Peyjal Nigam not only was able to manage the pumps effectively, but improved the efficiency of the pumps and reduced downtimes with proper interventions leading to improved productivity. CIMCON's Remote Terminal Units and SCADA systems not only helped the water system to be managed automatically but alerts were generated earlier so that the field workers can go there and rectify the issues if needed. This has helped Peyjal Nigam in saving water and energy consumption by 60 percent and improving productivity by 40 percent.
SO, IS DIGITIZATION DIFFICULT?
The water department has made great strides in the uptake of digital technology. However, there is still plenty of room for improvement. Since technology has evolved, it is possible to take a great leap forward to achieve true digital transformation with minimal investment. Water departments need to start with a clear strategic plan to create a full digital ecosystem. This can start by dividing the water network into discrete zones and identifying what is needed to address the specific challenges in each. Effectively, it is best to start small by adding to existing technology. CIMCON can do this through connecting to a variety of existing water instruments without having to invest in new, expensive systems. Our product uses wired and wireless networks to communicate with water assets distributed over a large geographical area throughout a city. Then, it communicates this data back into the cloud using available network.
So, is digitalization hard to implement? With CIMCON's experience in the water industry and its wide range of solutions from hardware, software, SCADA and the latest predictive maintenance solutions with AI and ML technologies, digitalization has never been easier to implement.